Back to Resources
Online course: Financial Management for Humanitarian, Development and Conservation Professionals (FMD Pro)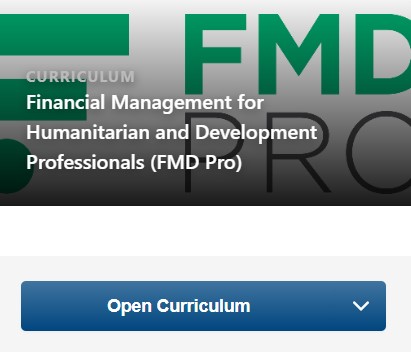 Who would find this resource useful?
Project team members managing projects in humanitarian, development, and conservation sectors
An organisation would use this resource when…
…building financial management skills in order to effectively manage project and program finances.
How can this resource help? 
This is a 2.5-hour free online course. The objectives of the course are:
Explain key concepts of financial management such as the four building blocks that are key to financial control
Understand why and how to keep accurate and complete records of all financial transactions to show how funds have been used
Describe importance of financial planning/accounting and use an income and expenditure budget, cash flow forecast and other forms of budgets
Explain the different types of financial reports, what to look for in a budget monitoring report and how to analyse and take action on variances
Understand what internal controls are, key policies and procedures that promote internal control and examples of corruption and how to address it
There is a short exam and certificate available at the end of the course.