Retour aux ressources
Online course: Risk Management and Funding Partnerships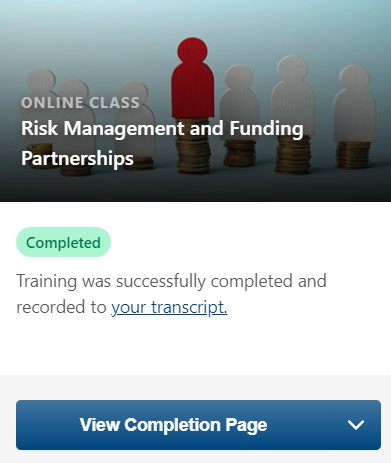 Who would find this resource useful?
All types of NGOs to better identify and manage risks that can arise from partnerships where one partner is funding another.
An organisation would use this resource when…
…managing operational challenges and risks affecting funding partnerships. Although based within the humanitarian sector, this resource can easily be adapted to conservation organisations.
Risk management is an important process for organisations that receive funding to work with partners and also for donors who fund humanitarian operations, such as the United Nations and governments. Identifying and mitigating risks related to funding partnerships ensures better outcomes for affected populations and improved relationships with donors.
How can this resource help?
This is a concise and clear free 10-minute Ready to Go Mobile Guide – with a downloadable PDF included with the course. It is designed specifically for mobile devices (smartphones and tablets) to support learners on the go.
There is a short exam and certificate available at the end of the course.